10 ways to increase our wellbeing in the workplace
For many of us, our workplace is our second home. However, we don't tend to treat it as such.
There are various ways to increase our workplace wellbeing by implementing some easy and stress-free steps in order to create a great environment to spark our creativity, performance, and productivity.
Here are 10 simple steps to turn your office into a sanctuary.
Workplace and wellbeing
1. Walk or cycle to work
Walking or cycling to work is one of the best ways to start the day with energy and a great positive mindset.
It allows us to avoid overly crowded public transportation or traffic jams, so we can start the day stress-free.
On top of that, walking and cycling provide a fantastic opportunity for a little 'me-time' and allow us to mentally prepare ourselves for the day ahead.
We are aware that it is not always possible to walk or cycle to work. What we recommend in those cases is to plan a little bit of extra time in the morning and to commute somewhere close to our jobs, so we still have the chance for a brisk walk.
---
2. Set up your desk properly and personalize it
A workplace can be a very impersonal zone or a very cozy one; the difference lies in how you make it 'yours'.
It is very important to learn how to set up your desk: the ideal distance of the computer from your chair, how to position a second screen, the location of the external keyboard and mouse…all of these elements will improve your overall performance. Here's a guide on how to set up your desk!
Once all these elements are in place, it's time to personalize it.
Our favorite recommendations are plants, family photographs or snapshots from inspirational places – anything that makes you smile! But here the only limit is your imagination!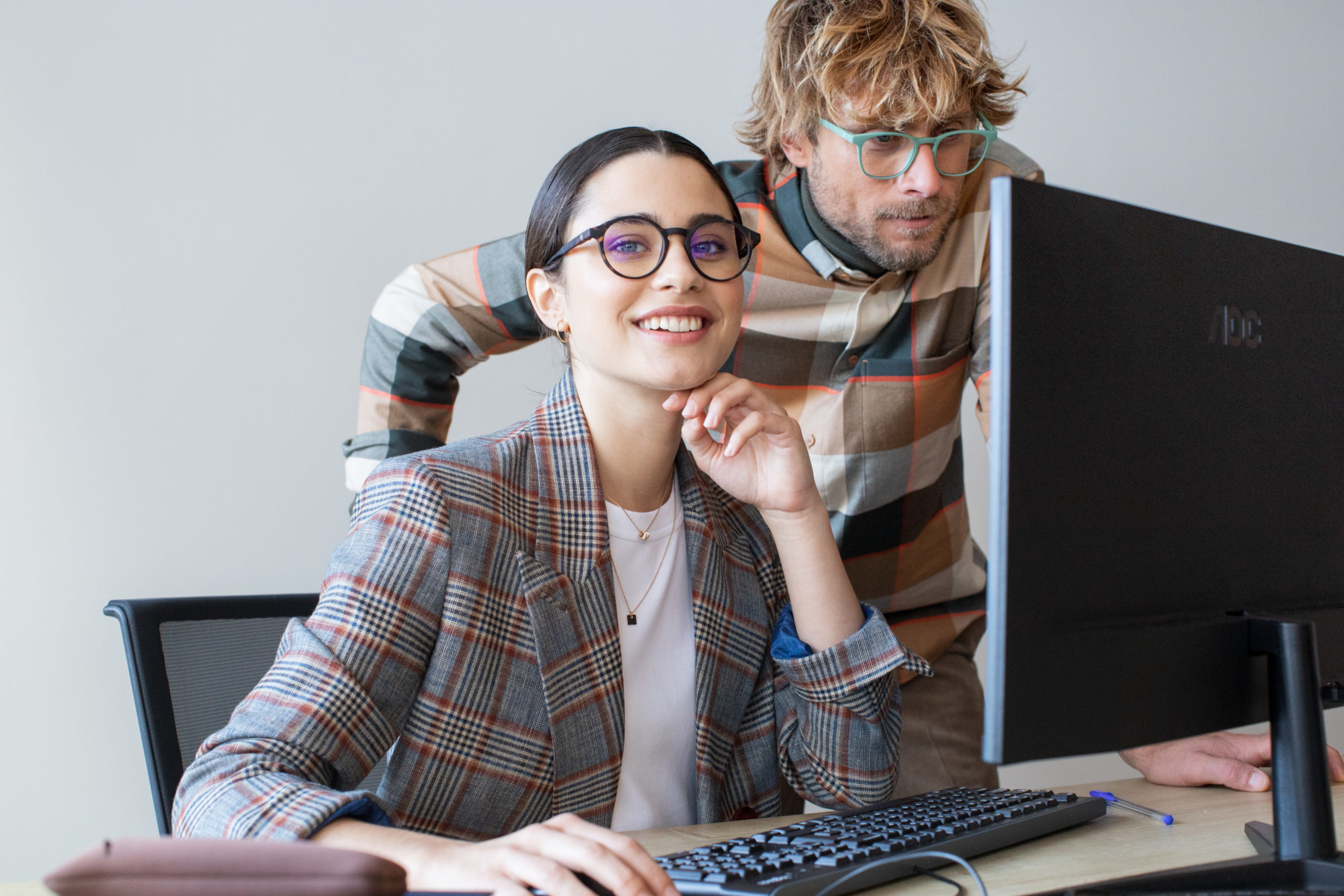 ---
3. Make sure you know how to sit properly at your desk
Although, as we've said, setting up your desk is a very important step to help you work better, achieve your goals more easily and increase your wellbeing, if we don't know how to sit properly at our desks, we won't feel all the benefits.
Choosing an adjustable chair with back support and ensuring that our back and neck are straight and our legs and feet supported are basic elements for a healthy work day.
---
4. Learn how to take care of your eyes
Have you heard of the 20-20-20 rule? It's basically the number one rule to take care of our eyes and maintain a healthy digital hygiene throughout our day to day.
By taking 20-second breaks every 20 minutes by looking at a non-digital object 20 feet away, we're giving our eyes a well-deserved rest.
The results? We don't feel as tired from focusing all day long.
Read more about the most common signs you might need glasses.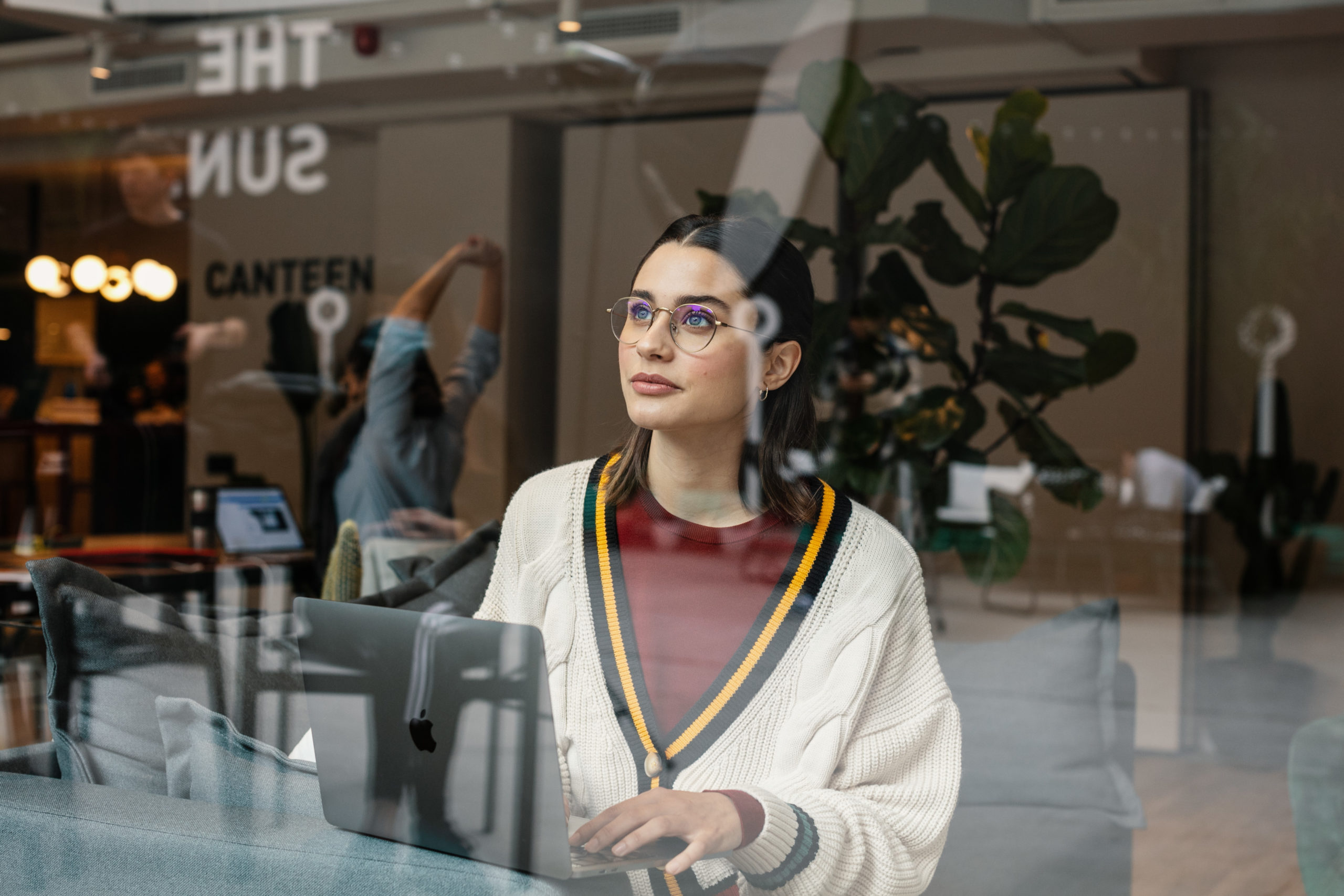 ---
5. Noise-cancelling headphones
If our surroundings are important at the workplace (the right position of your computer and chair!), sometimes they can also distract us from work.
Investing in a pair of noise-cancelling headphones would do you wonders.
They not only help to maximize concentration, but they also eliminate any sources of sound stress from your immediate surroundings.
---
6. Inspiring playlists
Why would you want amazing noise-cancelling headphones without music? A great tip to ensure wellbeing at the office is to create personalized playlists.
Music has a powerful effect on our minds and bodies; it can make us more active, more focused, calmer…choose your mood and follow the rhythms of your performance!
---
7. Stay hydrated and eat healthy snacks
We all know that water is good for our body and mind. However, it is easy to forget to stay hydrated at all times, which can result in annoying headaches.
Make sure to carry a bottle of water with you at all times. The chances are that you'll drink more if you visually see that bottle next to you.
In that same line, healthy snacks are another great secret to boost productivity. Nuts, yogurt and fruit are great options! If our bodies feel happy and energized, our creativity is at its best!
---
8. Take a break, take a walk
Sometimes our wish for productivity makes us forget one of the basics of a healthy productive day: regular breaks.
Periodic breaks are good for productivity and for your wellbeing. Here's how: they help prevent the so-called "decision fatigue" (which refers to the fact that we make poorer decisions when we are more tired), while also restoring motivation and boosting creativity. [1]
What would the perfect break be?
That's really up to each of us; anything that gives us a breath of fresh air would work. However, having said that, one of the most restorative types of breaks involves walking. The so-called 'movement breaks' are great for your emotional wellbeing!
9. Stress-free environments: practice mindfulness
We've all probably already heard about mindfulness, although many are not very sure what it really implies.
Mindfulness refers to a variety of activities with the aim of fostering a greater awareness of present moment experiences. [2]
Being 'in the moment' is an almost revolutionary task nowadays. That's why practices such as mindfulness mediation, non-judgmental observation of emotions, practicing gratitude and breathing exercises are great tools you can use at the workplace to ensure a stress-free environment.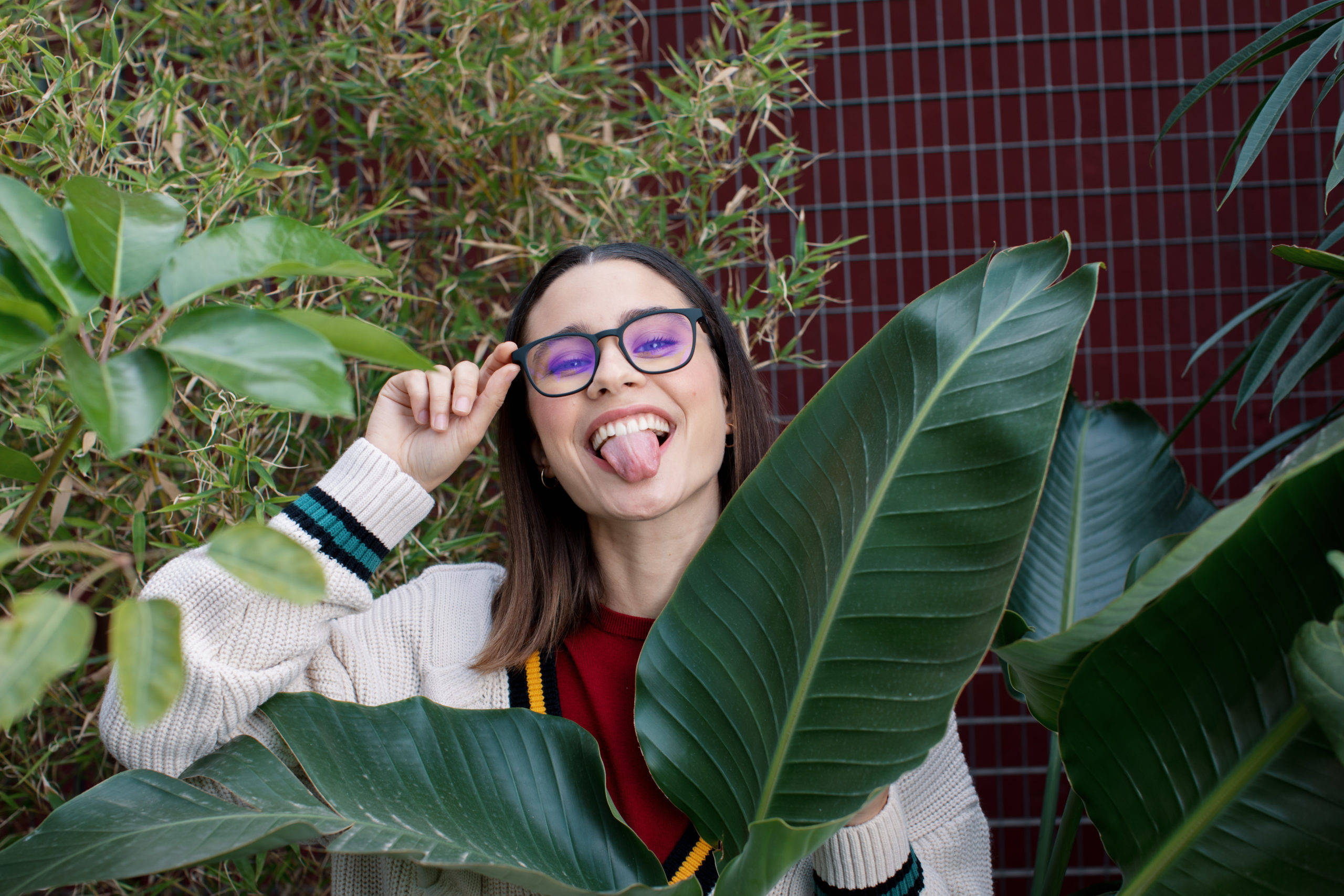 ---
10. Wear blue light glasses and avoid eye strain
Last but certainly not least, if you want to rid yourself of recurrent headaches due to the constant glare of digital screens and to prevent eye strain, blue light glasses should become your best working companion!
They efficiently protect against the potentially damaging effects of overexposure to blue light. Even if you spend long hours behind a screen, your eyes will feel noticeably more rested, and your overall wellbeing will increase.
Check out our incredible range of blue light glasses!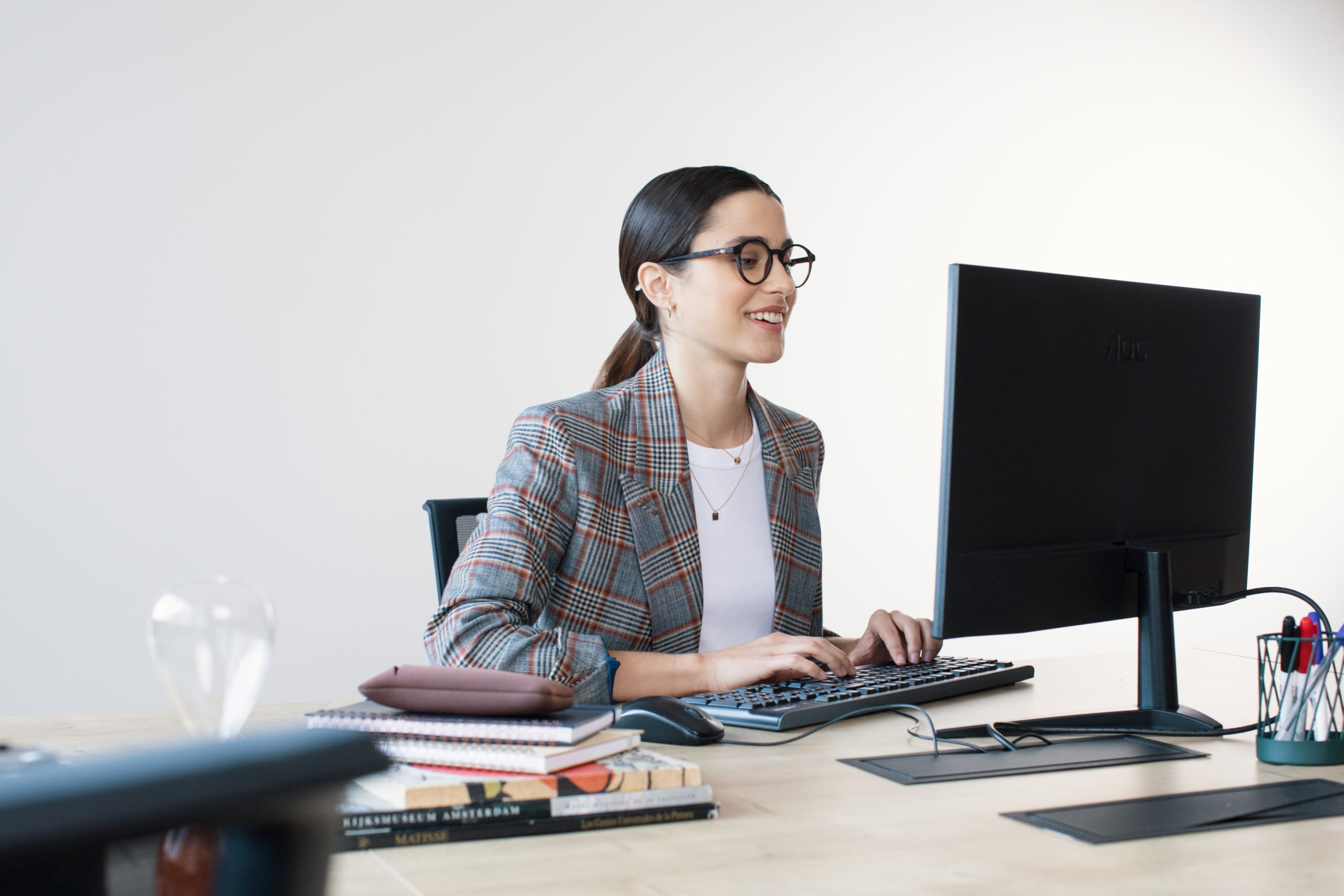 ---
Based on your reading interest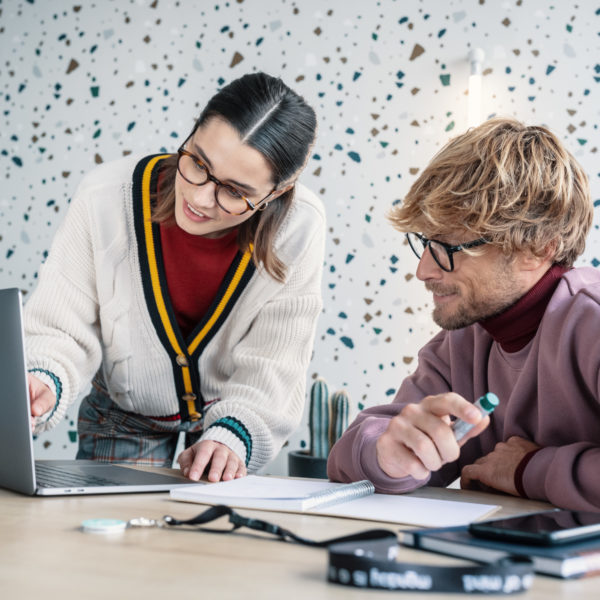 Learn how blue light glasses made a positive impact on The Power MBA's team after one month of usage.