The best coworking spaces in Barcelona: find the coolest places to work
Barcelona is an amazing and dynamic city with sun almost all year long. If you've been to the city, you've probably already discovered the magic hidden in its different neighborhoods. Wedged between the mountains and the sea, Barcelona has plenty of places to explore.
Whether you are a digital nomad, or you're looking for creative working spaces, we've prepared a great list of the best coworking spaces in Barcelona, to help you find the coolest locations to work in order to boost your productivity and focus.
Top 7 coworking spaces in Barcelona to explore
Are you wondering "how to find the best coworking spaces near me"?
We've got you covered!
Whether you're looking for the majesty of Gracia, the activity of the center, or the dynamism of Poblenou, we invite you to take a tour with us through different BCN neighborhoods to explore the top 7 coworking spaces in Barcelona.
1. A free coworking space in the center of Barcelona
Imagin café Barcelona [1] is an amazing place. Located in the center of Barcelona, 2 minutes from Plaza de Cataluña, this amazing coworking space comes with a special feature: it's free!
It is open from Monday to Friday from 9h00 to 17h00 and tends to get quite busy, therefore we recommend planning ahead. They have a coffee bar, an exhibition space, a "show-up" space for artists, a gaming area, and the "imaginMusic" space, where they show documentaries or organize music performances.
A coworking site in the center of Barcelona, located at carrer Pelayo, 11.
---
2. An attic in the coolest BCN neighborhood
According to Lonely Planet [2], Poblenou is the trendiest neighborhood in Barcelona, with many cool markets, different concept stores, innovative festivals and of course, it is next to the sea!
That's exactly where the next coworking space is located, in a gorgeous rooftop attic in Poblenou. Attico Med [3] has got spectacular views of the sea and is literally located within a 5-minute walk of the beach.
If you're looking for a great terrace to enjoy meetings under the sun, a swimming pool to find inspiration, or free coffee to start your working day with energy, this has to be your spot.
A coworking location in Poblenou found at Passeig de Garcia Fària, 49.
---
3. Where Montjuïc and creativity meet in a coworking space
La Vaca coworking [4] is a small yet intimate coworking space. Located at the foot of the majestic Montjuïc mountain, in Poble Sec, you'll find in this space lots of great activities to complement your day. From yoga, to art events, and all kinds of different sport activities, the spirit of this creative coworking space is based on the community and social networking.
Its name comes from its historical legacy, as the building was a former dairy converted into "an innovative" coworking space.
A coworking site in Poble Sec, located at carrer de la Creu dels Molers, 19
---
4. A flexible outdoor coworking space in Gracia
Betahaus coworking is a great space for remote workers, companies, or digital nomads looking for a spectacular office. With 5 different floors and a stunning terrace with breath-taking views of Barcelona, this coworking location will allow you to enjoy the best of both interior and outdoor working spaces.
It's perched on a lofty point above the city, in the neighborhood of Gracia, an area filled with cool bars, markets, amazing shops, and of course, a stone's throw from the majesty of some of Barcelona's monuments: La Sagrada Familia and Park Güell.
If you don't want to miss out on Barcelona life while you're working, this is your coworking oasis. They also organize lots of activities to spark creativity among its community, and it is open 24/7.
A coworking space in Gracia located at carrer de Vilafranca 7
---
5. A unique coworking space that sits directly on the water of Barcelona's port
If you're looking for the crème de la crème, One cowork Marina Port Vell has been described by Forbes as "one of the most unique coworking spaces in the world."[6]
The reasons are numerous, but the fact that this coworking space sits squarely on the water in Marina Port Vell, the port of Barcelona, and that it has a 360° terrace, makes it extremely special.
Located next to Barceloneta beach, and surrounded by fancy yachts, the extravagant beauty will surely inspire any of us to make the most of our working days!
A coworking space in Barceloneta, located at carrer de l'Escar, 26.
---
6. A coworking offering flexible stunning locations
Whether you'd like to work from the top of the city, in Tibidabo, by the beach, ain Barceloneta, or in between those two locations, in Diagonal, the Monday coworking space [7] lets you choose between these three locations.
Each of the three different spaces have their own perks: from the luxurious natural setting of a swimming pool and garden to a panoramic rooftop city terrace and table-tennis.
---
7. Another flexible company with different coworking locations
Utopicus [8] has developed several coworking spaces in recent years.
As of right now, it has 8 different locations in Madrid, and 5 sites in Barcelona. A great variety of spaces to choose from with carefully-chosen aesthetics.
Whether you want to work from the heart of Barcelona or Madrid, you will surely find your perfect spot!
Its vibrant colors and wide-open spaces will help anyone find the perfect mindset to focus and boost productivity.
On top of that, if you decide to pop by Ubicus at Gal·la Placídia, you can always come by to say hello to the Barner team as we often work from there!
Our sources:
[1] ImaginCafé
[2] LonelyPlanet
[3] AtticoMed
[4] LaVaca Coworking
[5] Betahaus
[6] Forbes
[7] Monday
[8] Utopicus
Based on your reading interest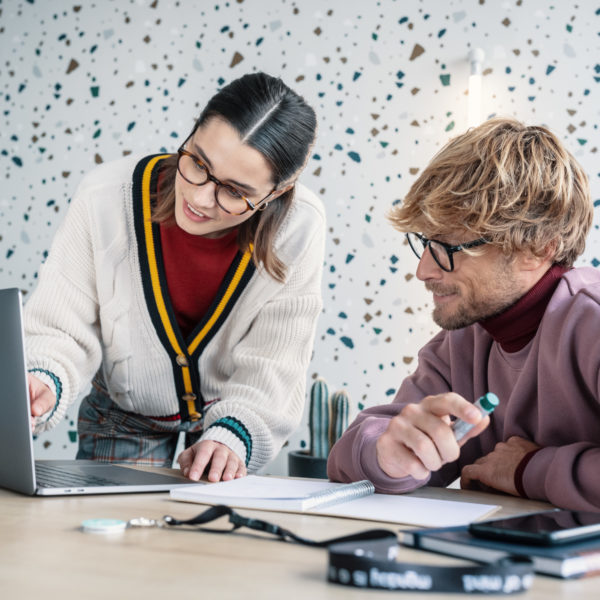 Learn how blue light glasses made a positive impact on The Power MBA's team after one month of usage.
---